The "Did I Mention" Book Tour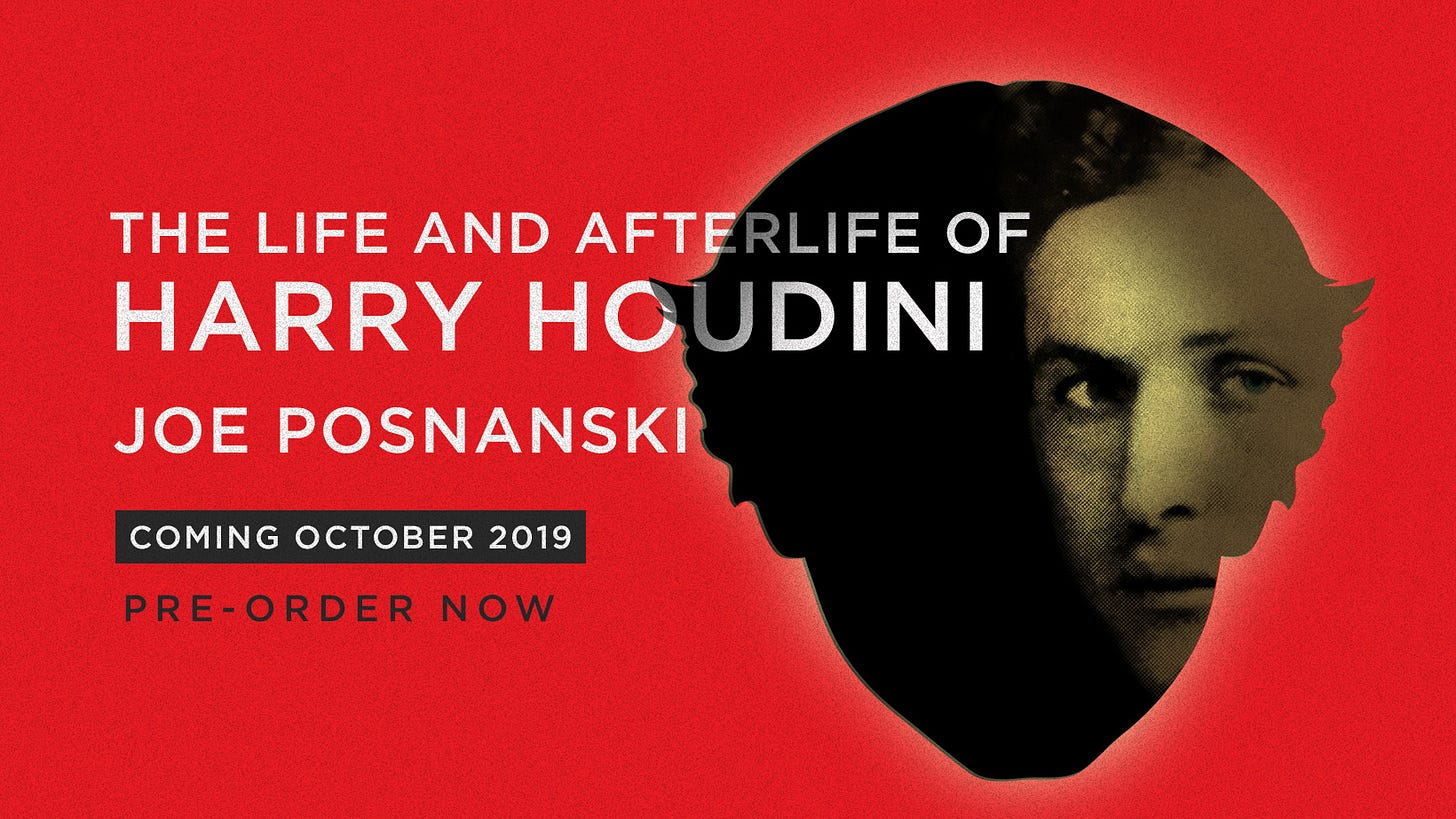 This seems a good place to keep an updated calendar of Houdini book events that are coming up. Oh, sorry, I should have mentioned, I wrote a book called The Life and Afterlife of Harry Houdini. It publishes on Oct. 22. I'm so proud of it. I cannot wait for you to see it and read it. I hope to be in your city soon.
If you would like to make a book tour or media request, please reach out to publicity superhero Jordan Rodman. She's awesome.
And if you would like to preorder an autographed book (incscribed with anything you like!) the wonderful Kansas City bookstore Rainy Day Books has a deal for you.
Here's the calendar! There are numerous events and appearances that will be added in the coming days, so many of these gaps are already in the process of being filled. Thank you all so much for your support.
---
Oct. 17: Charlotte
Margo and I wanted to add a cool Charlotte event if we could before this tour went crazy. And so, with the help of the good folks at Avid Reader Press and the kindness of people at the Providence Day School, we've added this cool World Premiere event where you can hear me talk about Houdini with the incredible Tommy Tomlinson and you can buy the book five days before it hits bookstores. RSVP today!
Oct. 18: Cheyenne, Wyoming
I'll be at the Booklover's Bash for Laramie County Library to kick off this crazy ride. I've never been to Cheyenne before, and I'm really excited. The book will be available even though it is four days before it goes on sale. That's how excited I am.
Oct. 21: The Last Bookstore, Los Angeles.
Our kickoff event will feature special co-host Nick Offerman. I don't know what else you need. If you do need anything else, The Last Bookstore is an incredibly cool place. The ticket price is simply the price of the book (and it includes a book so getting to see and hear the brilliant Nick Offerman is technically free!).
Oct. 22: The Writer's Blok, Los Angeles
I'll be joining former NBA star and author Paul Shirley at his writer's studio to talk about Houdini and, even more, about the process of writing a book or a magazine piece or a blog post or whatever else. We're talking writin'!
Oct. 23: Vroman's Bookstore, Pasadena
This one will be a blast, I'll be joined by special guest star John Cox, who knows more about Harry Houdini that just about anyone in the world. And I'm hoping to have another incredible guest for this one. I will be signing books afterward.
Oct. 24: Unity Temple on the Plaza, Kansas City
— This is for Rainy Day Books, my favorite independent bookstore in the world. I will be in conversation with Rainy Day owner Vivien Jennings and am trying to plan a few more surprises.
Oct. 29, Mysterious Bookshop, New York
— I will be joined by the amazing magician Joshua Jay, who will do some impossible magic including, I hope, a couple of Houdini classics. And when Josh and I get together, you never know where the conversation will go.
Nov. 1, Houdini Museum, Scranton, Pa.
— Can't imagine more fun than hanging out with Dick Brookz and Dorothy Dietrich at the world-famous Houdini Museum in Scranton. The Museum — and Dick and Dorothy — play a huge role in my book, and I'm thrilled to be joining them there. Don't know if we will have a side tour to Dunder-Mifflin.
Nov. 4, Magic City Books, Tulsa
— I don't know that you can have a better bookstore for hosting a Houdini event than Magic City Books.
Nov. 5, East City Bookshop, Washington, D.C.
— This has been finalized now … I'll be joined by the amazing Linda Holmes of NPR's Pop Culture Happy Hour (though perhaps better known for her role as Super Special Correspondent on the PosCast). This is going to be so much fun. I'll ask her about her incredible book Evvie Drake Starts Over. She'll ask about my book. It will be like an interview duel.
Nov. 11, Barnes and Noble at The Grove, Los Angeles
— Psst, this is a secret, it's not even on the event info yet. But I'll be joined by Jeff Garlin. Yeah, Jeff Garlin. You'll want to reserve as soon as possible.
Nov. 12, Magic Castle, Los Angeles
More info to come
— Yes, obviously I'm excited. I'm appearing at the Magic Castle! I'll be joined by John Cox and, well, who knows who else might make an appearance?
Dec. 5, Shalom Park, Charlotte
More info to come
— Working on putting together a big book event in Charlotte before this, but I will definitely be at this author event. Details to be released soon.
Dec. 13 and 14, Intercontinental Hotel, Buckhead (Atlanta)
Mercer University Press Author Luncheon
— Deeply honored to be invited to the 30th anniversary luncheon, which has an incredible collection of authors. Like with Charlotte, I'm hoping to have another Atlanta event.
Jan. 16-18, Magifest 2020, Columbus, Ohio
— This is the oldest magic convention in America, and it's one of the coolest things imaginable. This will my third Magifest, but it will be the first where I will actually be on stage. If you're super-interested in magic, you simply can't beat this. It's a bit like ComicCon for magic.